Christian Max Schrader
Aerospace and Software Engineer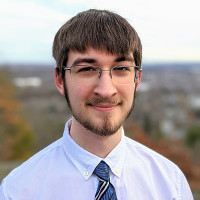 I'm an Aerospace Engineering graduate student at WPI. My BS is also in Aerospace Engineering with a minor in Computer Science. My focus is in Dynamics, Control, and Simulation although I also have a diverse skillset.
This website is a portfolio of my skills and experiences. You can keep scrolling to see the highlights or you can see more comprehensive pages in the menu in the top left. If you have questions, opportunities, or just want to talk, you can email me using the button below
Space Simulation
In the background, you can see a simulation of the Solar System. This is all running locally in your browser using 3D patched that I've implimented in Javascript. As you scroll down, the distance scale is decreased and time accelerates allowing you to see more of the system.
This simulation includes all the planets as well as other bodies like asteroids and minor planets and their real orbits. If you want to learn more about any of them, clicking on their labels will take you to Wikipedia to learn more.
Work In Progress
I'm currently in the progress of overhauling this website. Right now most of my relevant protfolio info is missing. Because I'm not currently searching for jobs right now, this is relativley low on my priority list so it may take me a while to finish the new website.
In the mean time, feel free to keep scrolling down to see the rest of the Solar System. Alternativley, if you need to view my portfolio, you can find the old (and currently outdated) site using the button below.